Brushware for Road Sweepers
We offer a broad range of quality-made replacement brooms. Our products are fabricated in South Africa using superior grade raw material.
Manufactured in South-Africa, our products meet the highest standards in quality and durability which translates into more hours between routine broom changes for the consumer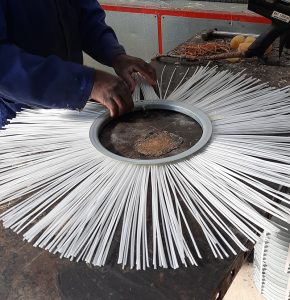 Typically the longest lasting filament and it can be used for sweeping in all seasons. The poly filament provides maximum " flick action" due to better flexibility under routine sweeping conditions when sweeping tough roads such as asphalt, gravel, and sand.
Some features of our brooms made from Polypropylene are:
accurate dimensions,

ready to install,

reliable functioning,

bristles remain firm and flexible.